ONE WORLD SETTLES IN AT DRAKENSTEIN
13 March 2020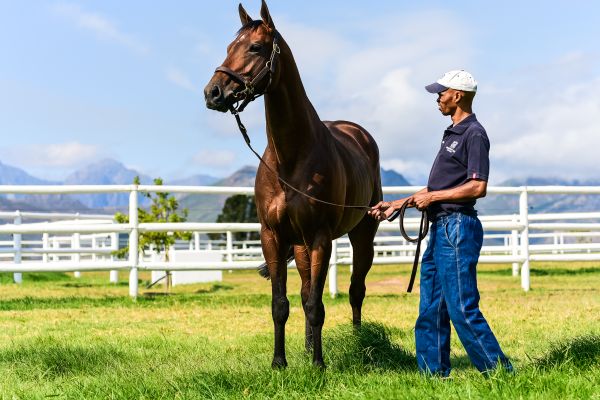 THERE has been an inordinate amount of public interest in One World going to stud at Drakenstein this week, quite possibly because he is only midway through his four-year-old racing career, but perhaps even more so because his growing band of followers are still in the afterglow of his sensational 2020 Sun Met win.
One World is going to be a popular stallion, of that there is no doubt. All the freshmen have only short windows to dress the table and make careerdefining marks, but he has everything needed in sizeable scoops, from his pedigree to his race record to conformation, attitude and temperament.
"One World is exploring his paddock, he's bucking, kicking and running around. He is still race fit, but he knows he can be a horse again," said Drakenstein's Racing Manager Kevin Sommerville about the new arrival, who has taken his place in a formidable stallion barn in the company of Duke Of Marmalade, Futura, Lancaster Bomber, Gold Standard, Trippi and What A Winter.
"We are starting to learn about him, keeping a close eye. He should settle down quick. What A Winter, for example, put his head down in the grass and started eating the day he arrived, and he was settled within just a few weeks.
"One World looks a sensible horse in hand, and he will soon get used to the activities on the farm, the movement and the horses around him. We'll be weaning him into his new surroundings slowly. He won't be going out into his paddock all day, just an hour or so to start with and we'll increase his time out from there."
Sommerville believes that Drakenstein has a number of mares that will suit One World. This was one of the reasons for owner Gaynor Rupert's interest and eventual acquisition of the stallion, who has been syndicated by John Freeman.
There are, of course, several more factors that have brought One World from trainer Vaughan Marshall's Milnerton stable to the exceptional Franschoek establishment.
"Temperament is one of the characteristics that stallions pass on to their offspring. Here we have a horse by the champion sire Captain Al from a mare by the international star Giant's Causeway. One World showed his extraordinary courage and big heart every time he ran. He was renowned for it, and we expect that his guts and heart will be passed on."
Sommerville told: "Most of the major local breeders are involved in One World and this is wonderful, because they bought the horse together with us with a view of keeping a locallybred champion in South Africa.
"As exports open up, we will have to protect horses like One World and his progeny. Hopefully new export protocols will increase the value of our stallions and their offspring, and bring greater value and activity to the broader South African market."
Sommerville said that, between Drakenstein's mares and the support from syndicate members, the stud will ensure that One World gets every chance to put his name on the map from the word go. "He was sold to the members with double services in the package, so they can each send two mares to him to start, which will ensure a book of at least 80 to 90 mares in his first season.
"Mrs Rupert will be doing our matings like she does with all the other stallions on the farm, and John Freeman as stallion manager will take care of the other bookings. There won't be many open slots as you can imagine, and a stud fee will be announced soon."
He concluded: "Let's not forget that One World has come to Drakenstein courtesy of Gaynor Rupert, who has a long-term vision and has built and developed this operation to what it is today. Our accolades are due mainly to her careful planning and our sustainably successful future remains her full-time concern."
Article written by: TURF Talk